From Wall Street to Silicon Valley: Adapting, Resetting and Reinventing in the Age of AI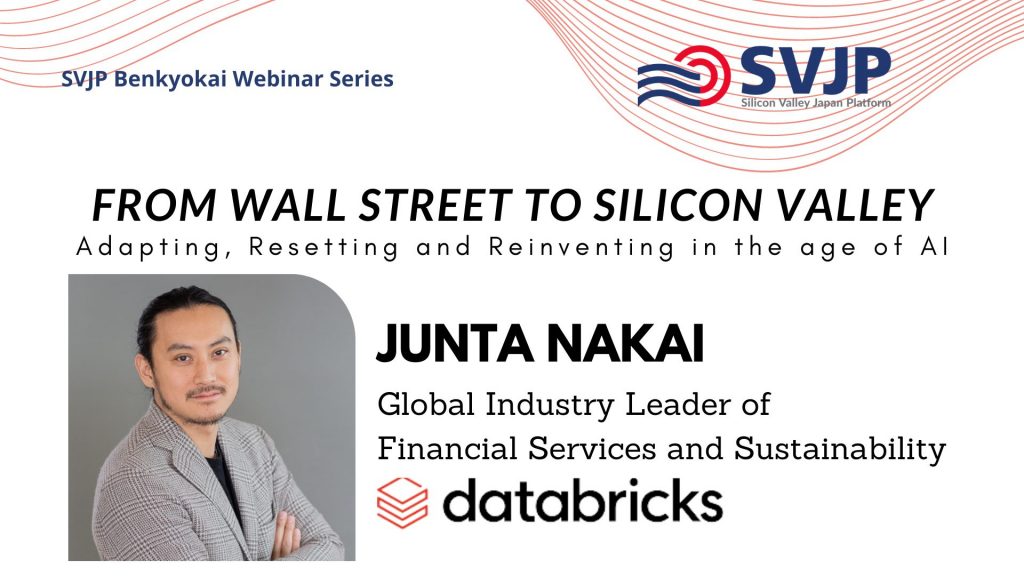 Junta Nakai began his career trading stocks, but by 2017 his company had gone from 600 traders down to 2 on the equities floor in 13 years. With the desire to be part of a company that was growing, Junta made the decision to be a disrupter rather than be disrupted. He left Wall Street, took an 80% pay cut and has never looked back.
The June SVJP Benkyokai discussed how Junta reset his career path and ended up at Databricks, an AI-enabled, open source data analytics platform company making a global impact as the 8th largest startup in the world.
Junta Nakai's profile:
Junta Nakai is the Global Industry Leader of Financial Services and Sustainability at Databricks. In his capacity, he is responsible for driving the world wide adoption of the Databricks platform across Capital Markets, Banking/Payments, Insurers and Data Providers as well as the advancement of ESG use-cases across all verticals.
Prior to joining Databricks, Junta spent 14 years at Goldman Sachs, where he most recently served as the Head of Asia Pacific Sales for the Americas in the Equities Division. He is a contributing Business and Technology writer at several publications and speaks frequently about digital transformation in Financial Services at conferences and media outlets around the world. Junta's thought leadership has been featured in publications such BusinessInsider, Harvard Business Review, and The Times.
Junta is bilingual in English and Japanese and holds a B.A. in Economics & International Studies from Northwestern University. He has been honored as the 2018-2019 Alumnus Fellow at Hopkins School and as an Austin J. Waldron Alumni speaker at Northwestern University. Junta is also the co-owner of Brooklyn Kura, the first sake brewery in New York.
Hiro Yoshikawa – Moderator's profile:
Hiro Yoshikawa is a Japan-born entrepreneur who moved to Silicon Valley in 2009. In 2011, Hiro co-founded Treasure Data, based in Mountain View, and served as its CEO. Hiro has successfully led the team in three funding rounds raising $54 million from top venture capital funds. In July 2018, UK based CPU design design giant Arm Holdings announced its acquisition of Treasure Data for reportedly $600M (Bloomberg). After serving as VP and General Manager of Data Business Unit at Arm, he is now a board director at Treasure Data, Inc.
Prior to Treasure Data, Hiro served as a Principal of Mitsui & Co. Venture Partners, Inc. (also known as Mitsui Ventures). At Mitsui, he focused on early stage information technology investments in North America. He has worked at Mitsui Ventures since February 2007. Prior to that, Hiro was employed at Red Hat Inc. since 2001, where he was a Business Development and Alliance Manager of OEM business channels and housing channels in Asia-Pacific area. He successfully introduced Red Hat Linux into several transnational companies.