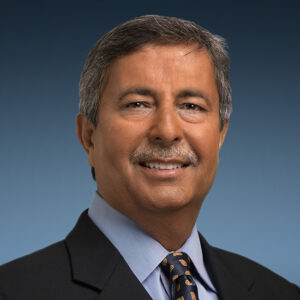 President & CEO, Micron Technology and Co-Founder, SanDisk Corporation
Sanjay Mehrotra
Mr. Mehrotra joined Micron in May 2017, after a long and distinguished career at SanDisk Corporation where he led the company from start-up in 1988 until its eventual sale in 2016. In addition to being a SanDisk co-founder, Mr. Mehrotra served as its president and CEO from 2011 to 2016, overseeing its growth to an industry-leading Fortune 500 company.
Prior to SanDisk, Mr. Mehrotra held design engineering positions at Integrated Device Technology, Inc., SEEQ Technology and Intel Corporation.
Mr. Mehrotra earned both bachelor's and master's degrees in electrical engineering and computer science from the University of California, Berkeley and is a graduate of the Stanford Graduate School of Business Executive Program (SEP). He currently serves on the board of directors of Cavium, Inc. Mr. Mehrotra holds more than 70 patents and has published articles in the areas of nonvolatile memory design and flash memory systems.
His recognitions include receiving the 2013 Outstanding Alumni Award in Electrical Engineering from the University of California, Berkeley, and being a joint recipient of the 2006 IEEE Reynold B. Johnson Information Storage Device Technology Award.