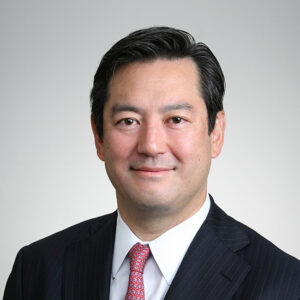 Daniel Fujii
Daniel K. Fujii is President & CEO of Trust Capital Co., Ltd.

Prior to that, Daniel was the representative director for Blackstone Group Japan. He focused on establishing the Blackstone franchise across its various products: private equity, real estate, credit, and M&A advisory.  He led the Blackstone Charity efforts in Japan including support for entrepreneurship.
Before Blackstone, Daniel spent six years at Shinsei Bank as founder and head of its private equity practice.  In addition, at Shinsei Bank, he was the head of the mergers and acquisitions and corporate finance operations, chaired the merchant banking committee, and served in several other capacities.  He has served on the investment committees for several private equity platforms dedicated to leveraged buyouts, retail, infrastructure, PIPES, corporate restructurings, and Greater China opportunities.  He has served on the boards of companies in retail, media contents, manufacturing, and technology.
In addition to his position on the Executive Committee of the Silicon Valley Japan Platform, he currently serves as a Board Director of the Harvard Club of Japan, Asia Council Board of Phillips Andover, Board of Councilor for the U.S.-Japan Council, Founding Member of the Asia Society Japan, Advisory Board of the Asian Cultural Council Japan, and Board of Trustees of the American School in Japan.
Mr. Fujii received a BA from Harvard College and an MA from Harvard Graduate School of Arts and Sciences.