Accelerating Innovation: The Rise of Japanese Startups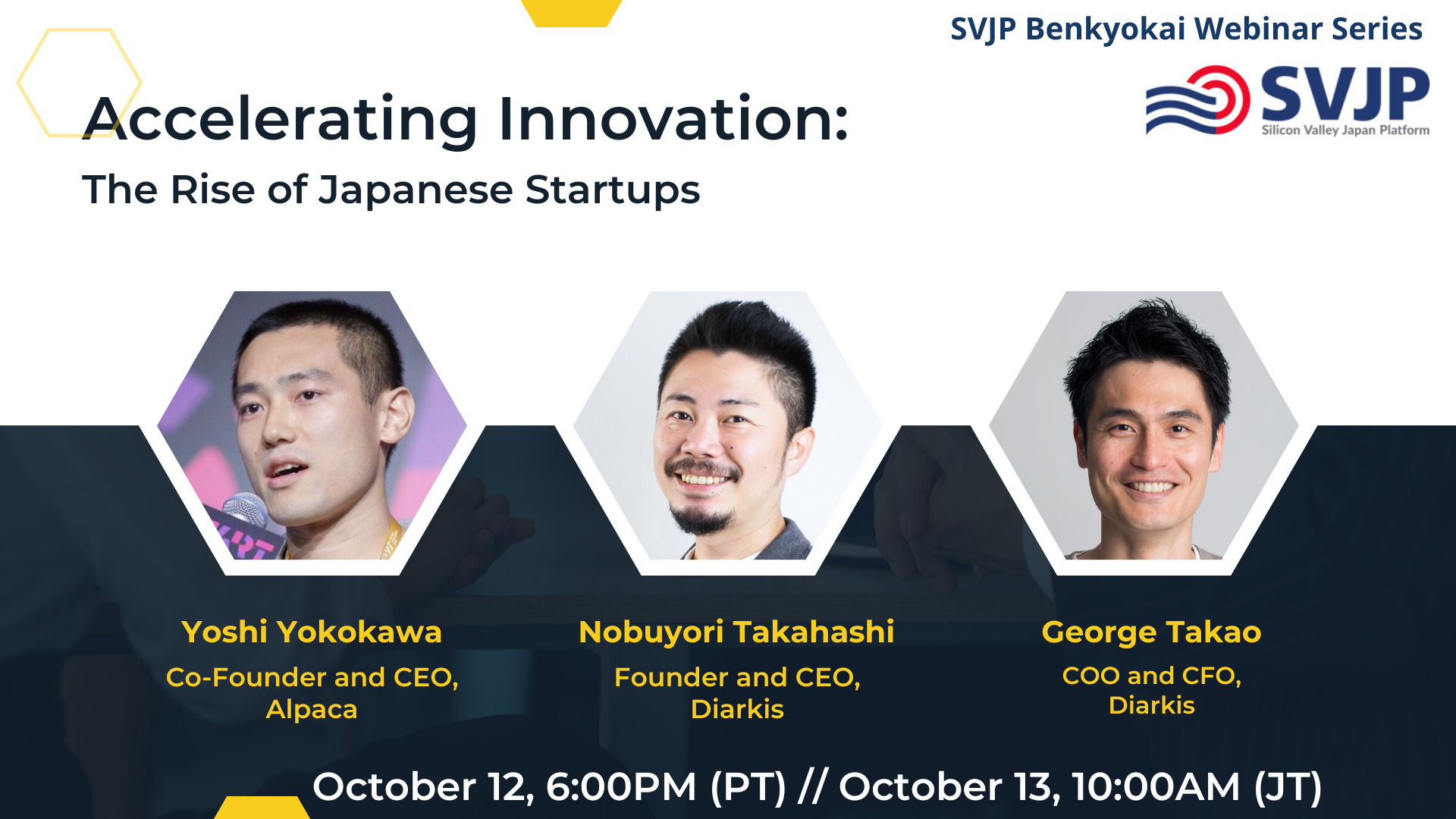 Japanese startups, once the "benchwarmers" sitting on the sidelines of Japan's business sector, have now moved onto the main court and are poised to become their next major economic players. Backed by Japan's main business association, Keidanren, and new government programs such as the Integrated Innovation Strategy 2022, Japanese entrepreneurs are receiving the jumpstart they need to accelerate Japan's economic revitalization.
On October 12, 6:00PM (PT) // October 13, 10:00AM (JT), the SVJP October Benkyokai featured two successful Japanese startups who shared their entrepreneurial journeys and how they're accelerating Japan's technological growth. The first featured startup, Alpaca, builds a financial services infrastructure for stock and crypto investing. Yoshi Yokokawa reflected on his experiences and learnings as the Co-Founder and CEO. The second featured company, Diarkis, is a middleware software that allows remote users such as online gamers to interact and communicate in real-time. Founder & CEO Nobuyori Takahashi and COO & CFO George Takao represented Diarkis to explore their challenges and successes.
ABOUT THE SPEAKERS
Yoshi Yokokawa:
Yoshi Yokokawa is Co-Founder and CEO of Alpaca, a hyper-growth financial technology company that builds a financial services infrastructure for stock and crypto investing. Billions of dollars of securities from investors across the world are traded each month using their API (application programming interface). Yoshi began his career at Lehman Brothers leading the Securitized Product team in Asia and co-founded a couple of software companies focused on deep learning and enterprise businesses before starting Alpaca in 2015. Alpaca is one of only four Japanese startups to be funded and trained as a participant in Y Combinators' startup batch and was recently named as one of Y Combinator's top companies of 2022.

Nobuyori Takahashi:
Nobuyori Takahashi has been working in real-time network technology for multiplayer applications for many years. He has designed and built large-scale network systems for numbers of hit titles while he was working at Silicon Studio and Colopl. He has now taken his experience to start his own company to build a brand new real-time network engine not just for multiplayer games, but for IoT, VR/AR and many more. With his new network engine Diarkis, he is aiming to bring true real-time experience to industries that previously had no chance of explaring the area.

George Takao:
George Takao is a COO and CFO at Diarkis. He started his career at Nomura Securities Co., Ltd and was in charge of wealth management for corporations and business owners. Later, he was stationed in Silicon Valley as a researcher to investigate local financing schemes and startups. In 2016, he joined Nissay Capital, a Japanese venture capital firm. He mainly provides sourcing, DD, contract execution, and hands-on support to venture companies in the IT sector. As an outside director, he also builds the governance structure of portfolio companies.
ABOUT THE MODERATOR:
HIRONOBU (HIRO) YOSHIKAWA
Hiro is a Japan-born entrepreneur who moved to Silicon Valley in 2009. In 2011, Hiro co-founded Treasure Data, based in Mountain View, and served as its CEO. Hiro has successfully led the team in three funding rounds raising $54 million from top venture capital funds. In July 2018, UK based CPU design design giant Arm Holdings announced its acquisition of Treasure Data for reportedly $600M (Bloomberg). After serving as VP and General Manager of Data Business Unit at Arm for three years, Treasure Data was separated from Arm to operate as an independent company again under SoftBank Vision Fund, where he is now Executive Chairman of Treasure Data.
Prior to Treasure Data, Hiro served as a Principal of Mitsui & Co. Venture Partners, Inc. (also known as Mitsui Ventures). At Mitsui, he focused on early stage information technology investments in North America. He has worked at Mitsui Ventures since February 2007. Prior to that, Hiro was employed at Red Hat Inc. since 2001, where he was a Business Development and Alliance Manager of OEM business channels and housing channels in Asia-Pacific area. He successfully introduced Red Hat Linux into several transnational companies.