Managing Escalating Tensions in the Indo-Pacific Region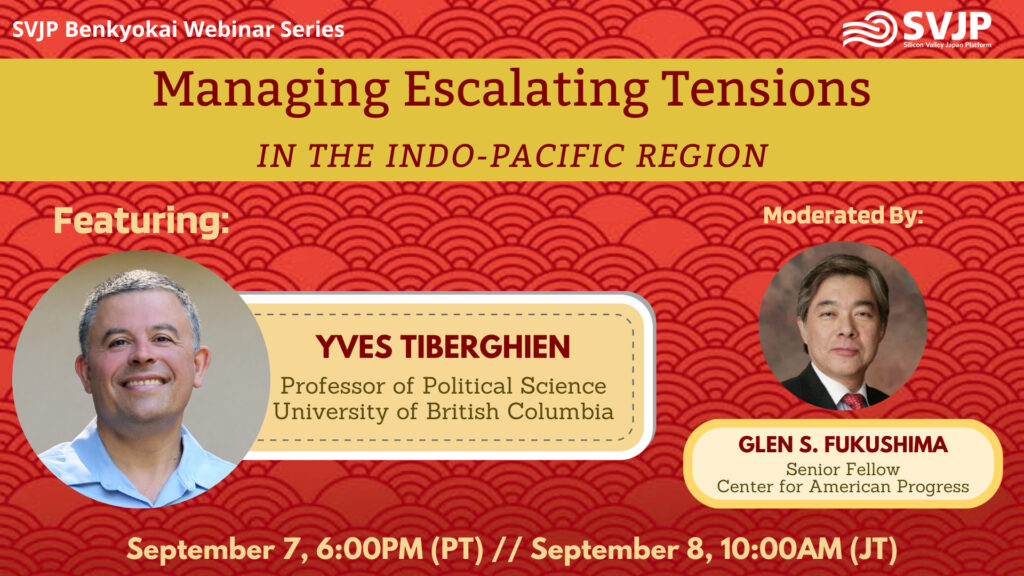 What explains the ever growing cycle of confrontation and worsening strategic interactions between the US and China? How can we make sense of current dynamics and its future trajectory?
In the September SVJP Benkyokai, Yves Tiberghien, professor of political science at the University of British Columbia, offered perspectives through three lenses on these dynamics:
The Impact of China's Developing Economy and Its Military Might
The Great Power Transition and the Battle for Global Order
A Mismatch between Global Integration and the Human Mind Focused on Domestic Narratives
Yves examined the most essential trends driving current change before offering insights on recent events such as the politics of the Covid crisis, the impact of the war in Ukraine on Asia, and the Taiwan issue. The Benkyokai also explored the current Chinese crisis with perspectives from key international powers. The session was moderated by Glen S. Fukushima, Senior Fellow at the Center for American Progress.
ABOUT THE SPEAKERS
Yves Tiberghien (Ph.D. Stanford University, 2002; Harvard Academy Scholar 2006; Fulbright Scholar 1996) is a Professor of Political Science and Konwakai Chair in Japanese Research at the University of British Columbia (UBC) in Vancouver, Canada. He is also Director Emeritus of the Institute of Asian Research, and Director of the Center for Japanese Research.
Yves is a Distinguished Fellow at the Asia-Pacific Foundation of Canada and a Senior Fellow at the University of Alberta's China Institute. He is an International Steering Committee Member at Pacific Trade and Development Conference (PAFTAD). In November 2017, he was made a Chevalier de l'ordre national du mérite by the French President.
In 2014-2016, Yves served as Co-Director of the UBC Master of Public Policy and Global Affairs (MPPGA), which he founded as Chair of the UBC Public Policy Curriculum Committee in 2014.
He is a regular visiting professor at Tokyo University (Graduate School of Public Policy) and at Sciences Po Paris (Paris School of International Affairs). He has held other visiting positions at National Chengchi University (Taiwan), GRIPS (Tokyo), and the Jakarta School of Public Policy (Indonesia).
Yves' research specializes in comparative political economy, global economic and environmental governance, and peace studies, with an empirical focus on Japan, China, Korea, and Europe.
His books include The East Asian Covid-19 Paradox. August 2021. Elements in Politics and Society in East Asia, Cambridge: Cambridge University Press DOI: https://doi.org/10.1017/9781108973533, Entrepreneurial States: Reforming Corporate Governance in France, Japan, and Korea (2007, Cornell University Press); L'Asie et le futur du monde (2012, Paris: Science Po Press); and Leadership in Global Institution-Building: Minerva's Rule (2013, edited volume, Palgrave McMillan). In 2020, he edited an online collection of papers on Japan's leadership in the Liberal International Order. He has published articles and book chapters on the political economy of Japan and China, global governance, global climate change politics, and the governance of agricultural biotechnology.
He is working on two books: Up for Grabs: Disruption, Competition, and the Remaking of the Global Economic Order and Navigating the Age of Disruption: Understanding Canada's Options in a Shifting Global Order.
Dr. Tiberghien co-founded the Vision 20 initiative in 2015, a new coalition of global scholars and policy-makers aiming at providing a long-term perspective on the challenges of global economic and environmental governance. The V20 held six summits (Hangzhou, 2016, Buenos Aires 2018, Tokyo 2018, and Washington DC, 2017, 2018, 2019).
Glen S. Fukushima is a Senior Fellow at the Center for American Progress, a public policy think tank headquartered in Washington, D.C., where he focuses on U.S.-East Asia relations. On October 14, 2021, President Joseph R. Biden nominated him to serve as Vice Chair of the Securities Investor Protection Corporation (SIPC), and the Senate confirmed him for this position on April 6, 2022.
From 1990 to 2012, Mr. Fukushima was a senior business executive based in Asia representing several major multinational corporations: Vice President, AT&T Japan; President, Arthur D. Little Japan; President & CEO, Cadence Design Systems Japan; President & CEO, NCR Japan; and President & CEO, Airbus Japan. He was elected to serve for two terms as President of the American Chamber of Commerce in Japan, then the largest American Chamber of Commerce outside the United States.
Before his business career, he served in Washington, D.C. as Director for Japanese Affairs (1985-1988) and Deputy Assistant United States Trade Representative for Japan and China (1988-1990) at the Office of the United States Trade Representative (USTR), Executive Office of the President. In 1993, he declined an offer to be the Assistant Secretary of Commerce for International Economic Policy at the U.S. Department of Commerce. He began his career as an attorney at the law firm of Paul, Hastings, Janofsky & Walker.
Mr. Fukushima has served on numerous corporate boards of directors, advisory boards, and government advisory councils in the United States, Europe, and Japan. He has served on the board of the Japan Association of Corporate Executives, America-Japan Society, National Association of Japan-America Societies, Japan Society of Boston, Japan Society of Northern California, Japan-America Society of Washington, D.C., International House of Japan, Japanese American National Museum, U.S.-Japan Council, International Student Conferences, Global Council of the Asia Society, and President's Leadership Council of the Asia Foundation.
Mr. Fukushima has been a member of the Council on Foreign Relations since 1993 and a board member of Foreign Policy for America until 2020. Until June 2001, he served for eight years in the White House-appointed positions of Vice Chairman of the Japan-United States Friendship Commission and Vice Chairman of the U.S. panel of CULCON (Joint Committee on United States-Japan Cultural and Educational Interchange). He has served as Chairman of the Mori Art Museum Best Friends, member of the Director's Circle of the San Francisco Museum of Modern Art and of the Jade Circle of the Asian Art Museum of San Francisco, and co-founder of the Tokyo Committee of Human Rights Watch. He also serves on the board of the Washington Bach Consort and PostClassical Ensemble. In 2016, he was appointed Commissioner of the Smithsonian Institution's National Portrait Gallery, and in 2018, he was invited to join the board of the Mori Art Museum.
His publications include Nichi-Bei Keizai Masatsu no Seijigaku [The Politics of U.S.-Japan Economic Friction], winner of the 9th Masayoshi Ohira Memorial Prize in 1993. He received the Excellence 2000 Award from the U.S. Pan Asian American Chamber of Commerce in 1999, the Alumni Hall of Fame Award from Stanford University in 2002, and the Person of the Year Award from the National Japanese American Historical Society in 2008. Keio University awarded him the status of Honorary Alumnus in 2012, and LEAP (Leadership Education for Asian Pacifics) conferred on him its Leadership Award in 2014. He is listed in Who's Who in America.
A native of California, Mr. Fukushima was educated at Stanford University, Harvard University Graduate School of Arts and Sciences, Harvard Business School, and Harvard Law School. At Harvard, he was awarded a National Science Foundation Fellowship. He was a Stanford/Keio Exchange Scholar at Keio University and was a Fulbright Fellow and a Japan Foundation Fellow at the Faculty of Law, University of Tokyo. He currently divides his time between Washington, D.C., San Francisco, and Tokyo, and often speaks at conferences especially in Asia and Europe.