Six Things to Know About Twitter and Other Social Media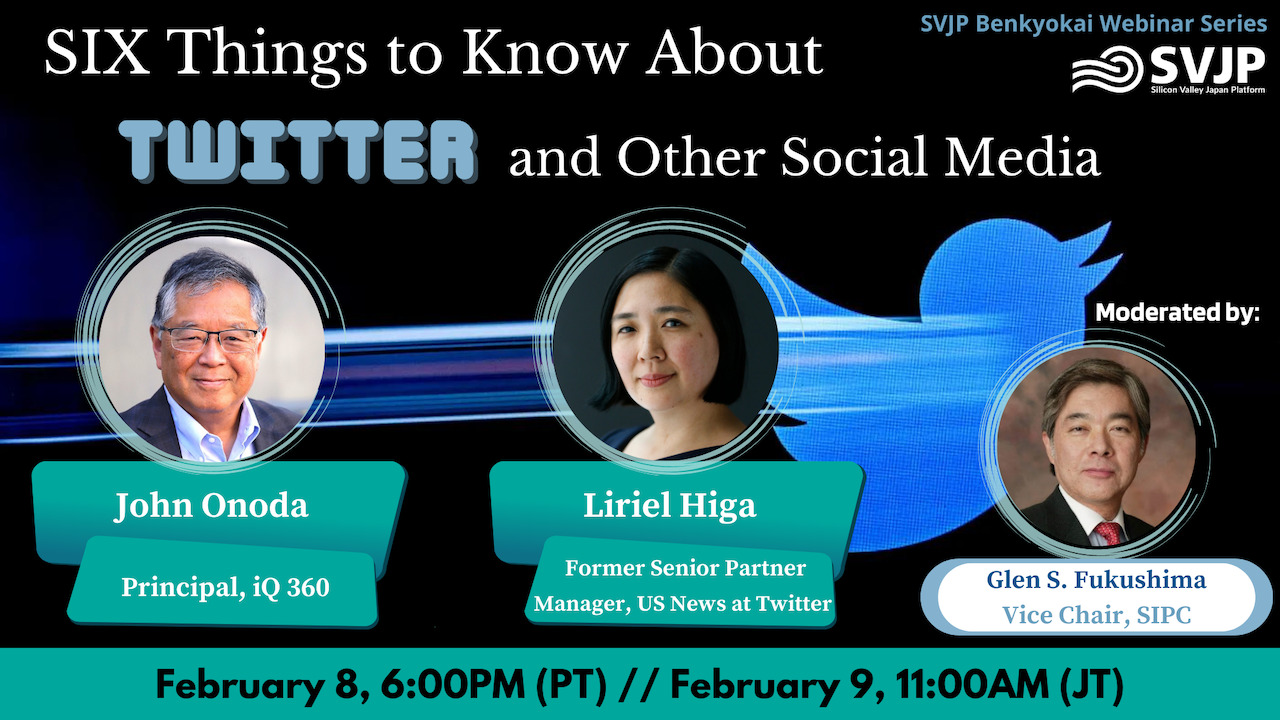 According to a 2021 Pew Research Center survey, about half of all Americans now use social media as a news resource. Social media has provided an alternative path from traditional journalism that allows for diverse voices to be heard and amplified. At the same time, this largely unregulated news distribution has led to concerns of widespread misinformation and biased reporting.
With recent events like Tesla founder Elon Musk's Twitter upheaval and former president Donald Trump's Facebook reinstatement, now is the time to reflect on the role social media plays in our information consumption.
On February 8, 6pm PT // February 9, 11am JT, the SVJP community explored social media's powerful influence on news and journalism. Guest speakers Liriel Higa, Former Senior Managing Partner for US News at Twitter and John Onoda, Principal of managing consulting firm iQ 360 and corporate communications expert, presented six key insights for listeners to contemplate. A following discussion was moderated by Glen S. Fukushima, Vice Chair at Securities Investor Protection Corporation.
---
ABOUT THE SPEAKERS
Liriel Higa
Liriel Higa was a senior partner manager for U.S. News at Twitter, responsible for strategic partnerships with digital and print newsrooms in the United States from October 2021 to November 2022. Her partners included the Wall Street Journal. New York Times, Bloomberg, Washington Post, San Francisco Chronicle and Reuters. She onboarded organizations such as AP to Twitter Spaces, worked with publications such as USA Today and the LA Times to pair them with Olympians and musicians for interviews, and represented Twitter at journalism conferences.
She was previously deputy director of audience at New York Times Opinion, where she established their daily live video chats and Twitter Spaces with columnists and guest writers, including Susan Rice, Roxane Gay, Ezra Klein and David Brooks. She also established Opinion's Instagram account and spearheaded its presence on Facebook, reddit and Snapchat. She joined The Times in 2014 as assistant to the columnists Nicholas Kristof and Charles Blow.
Prior to The Times, she was director of social media at Show of Force, a documentary film company that produced "Half the Sky" and "A Path Appears," films based on books by Nicholas Kristof and Sheryl WuDunn.
Liriel began her career in journalism as a reporter for Congressional Quarterly, where she covered budget and appropriations on Capitol Hill and profiled Sen. Daniel K. Inouye. She received her undergraduate degree from Princeton in public and international affairs.
---
John Onoda
John Onoda is a principal of iQ 360, management consulting firm with expertise in corporate reputation, ESG, brand, organization change, and stakeholder relations. He has held chief communications positions for The Charles Schwab Corp., Visa USA, General Motors, and Levi Strauss. Before leading corporate communications departments, Onoda served as the director of global media relations at McDonalds.
Shifting from the corporate world to consulting, he has been providing counsel to Fortune 100 companies in the technology, energy, retail, biotech, pharmaceutical, construction, defense, communications, life sciences, financial services, and automotive industries. He has also advised universities, foundations, associations, governments and the military.
Onoda holds a Bachelor of Arts degree in communications from the University of Michigan, a Juris Doctorate degree from Indiana University, and a master's degree in journalism from Northwestern University's Medill School of Journalism. He has served as a board member of the Arthur W. Page Society, Business for Social Responsibility, the International Association of Business Communicators Foundation and the Bay Area United Way. He currently is on the board of councilors of The U.S.-Japan Council, the advisory board of the Page Center for Integrity in Public Communications, and the advisory board of the Teen Readers Society.
---
Glen S. Fukushima
Glen S. Fukushima is a Senior Fellow at the Center for American Progress, a public policy think tank headquartered in Washington, D.C., where he focuses on U.S.-East Asia relations. On October 14, 2021, President Joseph R. Biden nominated him to serve as Vice Chair of the Securities Investor Protection Corporation (SIPC), and the Senate confirmed him for this position on April 6, 2022.
From 1990 to 2012, Mr. Fukushima was a senior business executive based in Asia representing several major multinational corporations: Vice President, AT&T Japan; President, Arthur D. Little Japan; President & CEO, Cadence Design Systems Japan; President & CEO, NCR Japan; and President & CEO, Airbus Japan. He was elected to serve for two terms as President of the American Chamber of Commerce in Japan, then the largest American Chamber of Commerce outside the United States.
Before his business career, he served in Washington, D.C. as Director for Japanese Affairs (1985-1988) and Deputy Assistant United States Trade Representative for Japan and China (1988-1990) at the Office of the United States Trade Representative (USTR), Executive Office of the President. In 1993, he declined an offer to be the Assistant Secretary of Commerce for International Economic Policy at the U.S. Department of Commerce.
He began his career as an attorney at the law firm of Paul, Hastings, Janofsky & Walker. Mr. Fukushima has served on numerous corporate boards of directors, advisory boards, and government advisory councils in the United States, Europe, and Japan. He has served on the board of the Japan Association of Corporate Executives, America-Japan Society, National Association of Japan-America Societies, Japan Society of Boston, Japan Society of Northern California, Japan-America Society of Washington, D.C., International House of Japan, Japanese American National Museum, U.S.-Japan Council, International Student Conferences, Global Council of the Asia Society, and President's Leadership Council of the Asia Foundation.
Mr. Fukushima has been a member of the Council on Foreign Relations since 1993 and a board member of Foreign Policy for America until 2020. Until June 2001, he served for eight years in the White House-appointed positions of Vice Chairman of the Japan-United States Friendship Commission and Vice Chairman of the U.S. panel of CULCON (Joint Committee on United States-Japan Cultural and Educational Interchange). He has served as Chairman of the Mori Art Museum Best Friends, member of the Director's Circle of the San Francisco Museum of Modern Art and of the Jade Circle of the Asian Art Museum of San Francisco, and co-founder of the Tokyo Committee of Human Rights Watch. He also serves on the board of the Washington Bach Consort and PostClassical Ensemble. In 2016, he was appointed Commissioner of the Smithsonian Institution's National Portrait Gallery, and in 2018, he was invited to join the board of the Mori Art Museum.
His publications include Nichi-Bei Keizai Masatsu no Seijigaku [The Politics of U.S.-Japan Economic Friction], winner of the 9th Masayoshi Ohira Memorial Prize in 1993. He received the Excellence 2000 Award from the U.S. Pan Asian American Chamber of Commerce in 1999, the Alumni Hall of Fame Award from Stanford University in 2002, and the Person of the Year Award from the National Japanese American Historical Society in 2008. Keio University awarded him the status of Honorary Alumnus in 2012, and LEAP (Leadership Education for Asian Pacifics) conferred on him its Leadership Award in 2014. He is listed in Who's Who in America.
A native of California, Mr. Fukushima was educated at Stanford University, Harvard University Graduate School of Arts and Sciences, Harvard Business School, and Harvard Law School. At Harvard, he was awarded a National Science Foundation Fellowship. He was a Stanford/Keio Exchange Scholar at Keio University and was a Fulbright Fellow and a Japan Foundation Fellow at the Faculty of Law, University of Tokyo. He currently divides his time between Washington, D.C., San Francisco, and Tokyo, and often speaks at conferences especially in Asia and Europe.