Work-Life Balance: Staying Physically, Mentally and Emotionally Fit in 2022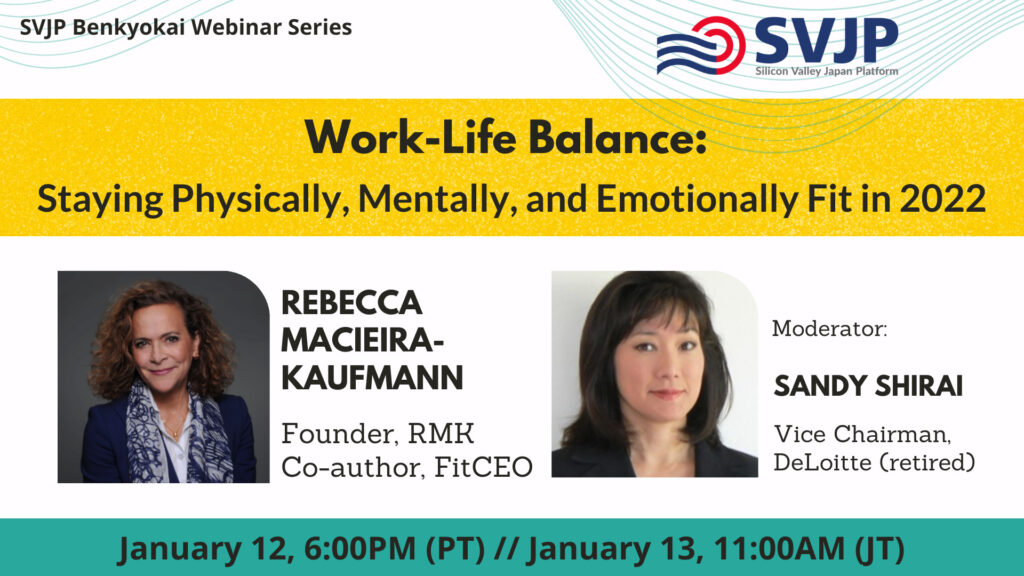 The Silicon Valley Japan Platform recently hosted its first monthly Benkyokai webinar of 2022: "Work-Life Balance: Staying Physically, Mentally, and Emotionally Fit in 2022". The Benkyokai focused on starting off the New Year on a healthy path by learning simple, yet powerful lifestyle changes that can significantly impact your health and energy.
Leading us through these lifestyle changes was Rebecca Macieira-Kaufmann, founder of fintech consulting group RMK and co-author of FitCEO: Be The Leader of Your Life. Rebecca reaches from her own experience as an accomplished financial services CEO to help others battle burnout and the intense demands of high level work. She shared the deceptively simple ways we can adjust our lifestyles for better work, better health, and better living in the new year.
ABOUT THE SPEAKER:
Rebecca Macieira-Kaufmann is a seasoned CEO with broad leadership experience in sales, marketing, risk management, and international business operations. She draws on deep expertise in the financial services industry and has a demonstrated track record of leading highly successful business turnarounds, scaling new businesses, and expanding operations globally. She also brings a strong background in governance through her corporate and non-profit board experiences. She founded RMK Group, LLC, in June 2020 to advise CEOs of start-ups in all phases of growth in the fintech, digital currency, identity management and payment systems industries and more.
Rebecca spent more than 11 years at Citigroup serving in a range of CEO, President, and General Manager roles. In her last role, as Head of Citigroup's International Personal Bank, she managed a full P&L line of business serving the offshore wealth needs of multi-national clients in more than 100 countries. From operations to sales and marketing, Rebecca was able to transform the business—she simplified operations, digitized the customer experience, improved the financials and grew the business exponentially.
Previously Rebecca served as President and CEO of Banamex USA, a subsidiary of Citigroup, Inc. and affiliate of Banco Nacional de México, the second-largest bank in Mexico. Rebecca became chairman of the board and implemented a CEO succession plan. Prior to that, Rebecca held full P&L responsibility as President of Citibank California covering 400 retail stores. Before Citi, Rebecca spent 13 years at Wells Fargo, lastly as the Head of Small Business Segment running a multi-billion-dollar P&L division serving the lending and cash management needs of more than 2 million customers. She also held positions with Wells Fargo Insurance Services, Providian Financial, and Retail Solutions Management Consultants in London.
Rebecca has more than 25 years of experience on non-profit boards. She has served on executive, audit, finance, marketing, risk, and nomination and governance committees. She is currently on the Board of Governors of the San Francisco Symphony (audit and executive committees) and on the Senior Jewish Living Group Board.
Rebecca is a frequently sought-after speaker on leadership and business transformation, life and work integration, culture change, and building high-performing teams. She has been recognized for her leadership and accomplishments, including being named an Influential Woman in the Bay Area Business by the San Francisco Business Times for 12 years and a Forever Influential Woman in 2014. She was named the 2010 Financial Woman of the Year by the Financial Women's Association of San Francisco, awarded with the 2007 Women Leading Change Award by the National Coalition of 100 Black Women, and honored with the Fulbright Lifetime Achievement Award in 2018.
In 2021 Rebecca wrote FitCEO: Be The Leader of Your Life about achieving holistic health—at work, home and play. With co-author Lillian So, the book shares lessons learned over decades of leadership, fitness, transformation and life to enable any reader ready for "immediate and imperfect action" to make small changes in habits that can manifest in lifelong change. The book can serve as a powerful tool for a CEO, leader, parent, friend or individual.
Rebecca holds a BA in Semiotics from Brown University, and was a post-graduate Fulbright Scholar at the University of Helsinki, Finland. She holds an MBA from Stanford Graduate School of Business.
ABOUT THE MODERATOR:
Sandy Shirai retired from Deloitte in 2020 after 31 years. Her most recent role was serving as Deloitte's Vice Chairman and Global Leader for Technology, Media and Telecommunications. Sandy also served on Deloitte's Consulting Executive Committee and the Board of Directors.
As the Chairman of the Strategic Investments Committee, Sandy served in a governance capacity to oversee the construction of Deloitte University and the acquisition of BearingPoint, both of which are considered two of Deloitte's most successful investments.
Currently, Sandy is First Vice President of the Girl Scouts of Northern California and on the Advisory Council of the Clayman Institute at Stanford.
Prior to Deloitte, Sandy worked at IBM and Hewlett Packard. She earned her BA in Computer Science at UC Berkeley and an MBA at Stanford.