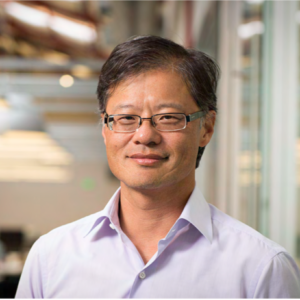 Co-Founder, Yahoo! and Founding Partner, AME Cloud Ventures
Jerry Yang
Entrepreneur Jerry Yang co-founded Yahoo! Inc. in 1995 and served on the Board of Directors until January 2012. Mr. Yang also served as a member of the executive management team. While at Yahoo he led a number of initiatives, including two of the biggest investments in the internet: Yahoo Japan and Alibaba Group. Yang holds B.S. and M.S. degrees in electrical engineering from Stanford University. He is widely recognized as a visionary and pioneer in the internet technology sector, and was named one of the top 100 innovators in the world under the age of 35 by the MIT Technology Review in 1999.

Mr. Yang served as a director of Yahoo Japan Corporation (TSE:4689) and Alibaba Group until January 2012; and a director of Cisco Systems, Inc. (NASDAQ:CSCO) from July 2000 to November 2012.
Mr. Yang currently works with and invests in technology entrepreneurs through AME Cloud Ventures, his innovation investment firm. Mr. Yang also serves as a director on the boards of Workday Inc., Lenovo Group, and Alibaba Group.
Mr. Yang and his wife, Akiko Yamazaki, are well known philanthropists who focus on higher education, conservation and the arts. Mr. Yang serves as a Board Director of Dunhuang Foundation (USA), and a Board Member for Monterey Peninsula Foundation. He served on Stanford University's Board of Trustees from 2005 through 2015, including being a Vice Chair of the Board. Mr. Yang is a member of the Committee of 100, as well as a member of the Council on Foreign Relations.