Application Security: Redefining Digital Safety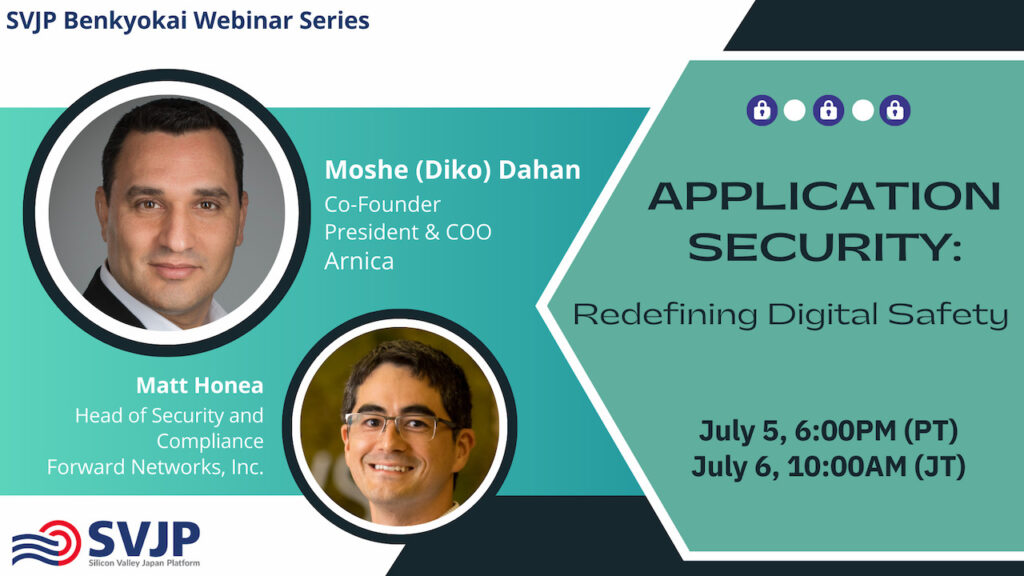 In the current digital age, it is nearly impossible to go through daily life without entrusting personal information to digital services. Data collection has become a norm and threats of cybertheft a generally accepted risk. But when large scaled attacks are discovered which permeate multiple U.S. government agencies such as the SolarWinds breach in 2020, it gives reason to question how vulnerable our data truly is. 
On July 5, 6pm PT // July 6, 10am JT, the SVJP invited Moshe "Diko" Dahan, Co-Founder, President and COO of Arnica, to illustrate the development of cybersecurity practices and the growing importance of application security. In the July Benkyokai we examined how software supply chains have become the new target for hackers, and the measures cybersecurity experts have developed to oppose them. The session was moderated by Matt Honea, Head of Security and Compliance at Forward Networks, Inc.
Speakers
Matt Honea
Matt Honea is the Head of Security at Forward Networks Inc, an advanced networking company headquartered in Santa Clara, CA. Matt was formerly Head of Security at SmartNews, Inc, headquartered in Tokyo, Japan. He was formerly the Senior Director of Cybersecurity at Guidewire Software in San Mateo, California. Matt has worked extensively in the areas of threat intelligence, network defense, system forensics and discovery, enterprise security auditing, malware analysis and physical security.  Matt is an industry speaker, author in the area of cybersecurity and cyber risk, as well as a Silicon Valley Business Journal 40 under 40 honoree.
Moshe (Diko) Dahan
Moshe (Diko) Dahan is a highly accomplished Technologies Executive and Professional with a wealth of experience spanning various industries and a diverse range of products and technologies. With a proven track record in providing consulting services to leading organizations within the IT industry, Dikohas played a pivotal role in driving their success and helping them navigate toward a more resilient future. Today Diko is one of the co-founders at Arnica, a software supply chain security leader in the industry.