Databall: The Future of AI and Sports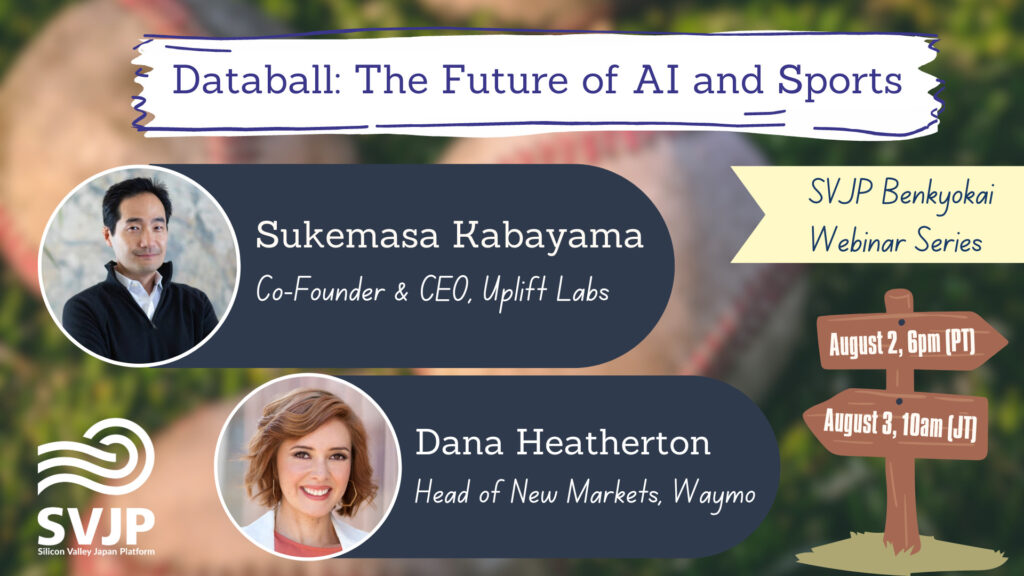 The future of sports is rapidly evolving, driven by groundbreaking advancements in AI technologies. Gone are the days of relying solely on intuition and experience to make critical decisions. Now, sports executives and coaches must adapt and utilize the powerful tools provided by AI to succeed in their rapidly transforming fields.
On August 2, 6pm PT // August 3, 10am JT, the SVJP August Benkyokai webinar was held to explore the cutting-edge advancements reshaping the sports landscape. The SVJP community embarked on an insightful journey with Sukemasa Kabayama, Co-Founder and CEO of Uplift Labs. We learned firsthand the incredible journey of Uplift Labs, the trailblazing startup that has harnessed the power of AI to optimize human performance and health through biomechanical data analysis.
Recently, the company has formed a first-of-its-kind partnership with MLB, enabling them to evaluate and scout players for upcoming drafts. We delved into the development and market fit journey of Uplift's AI technology, understanding how it has evolved to revolutionize the sports industry and redefine the art of player development and talent evaluation. To ensure a dynamic discussion, we had the privilege of having Dana Heatherton, Head of New Markets and Infrastructure at Waymo, as the event's moderator.
Speakers
Sukemasa Kabayama
Masa is passionate about scaling emerging technologies that deliver amazing customer experiences and have a positive impact on society. He is Co-founder & CEO of Uplift Labs (Palo Alto, CA), an AI-powered technology company that delivers accurate movement tracking and 3D analysis to optimize performance and health using only iPhones or iPads.
Masa has held leadership roles at global companies focused on innovation. As President of Tesla Motors Japan, he led the launch and market expansion strategy for the Model S. Prior to Tesla, Masa was Director of Education at Apple Japan, responsible for launching the iPad in the education sector. Before then, he spent 7 years as Country Manager of LEGO's education division in Japan helming the market expansion of LEGO's robotics platform in schools and universities as well as launching LEGO Schools focused on developing creativity and problem-solving skills.
Dana Heatherton
Dana Fujiko Heatherton is Head of New Markets for Waymo, the leader in autonomous driving car technology (formerly the Google Self Driving Car Project). Prior to Waymo she served as Chief Operating Officer of GIG Car Share, the nation's largest free-floating car share and all electric vehicle fleet. In 2020 she was named Top 20 Most Influential Women in Mobility. Previously she helped establish A3Ventures, the Innovation Lab and Venture Capital arm of the Automobile Association of America (AAA) to launch new ventures in mobility, home maintenance, and elder care. Prior to that she worked in Oil Trading for Shell in Houston, TX and in Finance for the Capital Group in LA. Dana currently serves as Co-Chair of the National Japanese American Memorial Foundation, and has been active in the community as U.S.-Japan Council Regional Chair, Executive Board Member of the Little Tokyo Service Center, and a TV reporter for local Japanese news. She is a yonsei from Los Angeles and graduated from UCLA with a degree in American Literature. Dana lives in San Francisco with her husband and two children.