Beyond Abenomics: Priorities & Challenges for Japan's New Prime Minister Kishida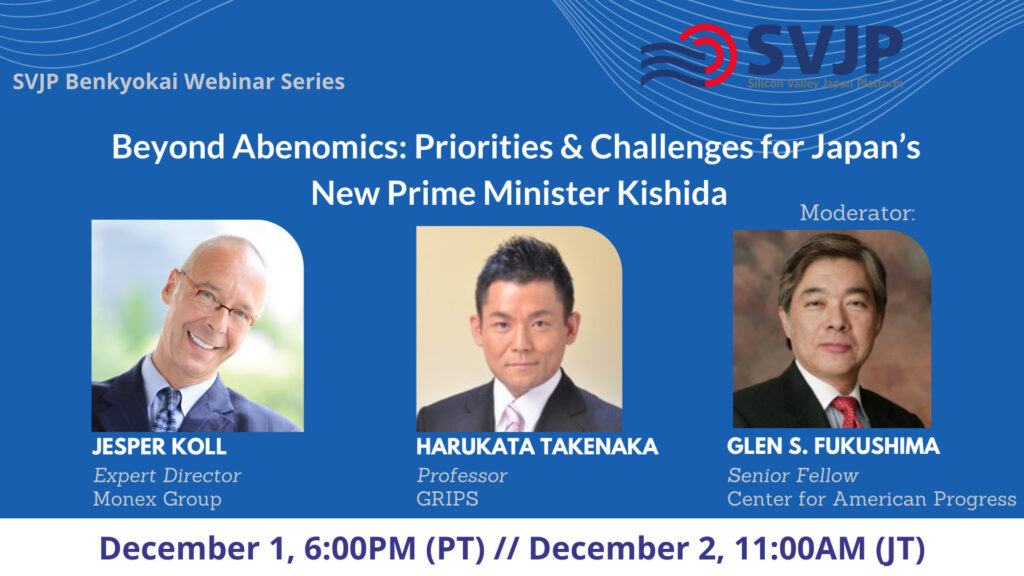 The Silicon Valley Japan Platform held its December monthly Benkyokai webinar on the topic of "Beyond Abenomics: Priorities and Challenges for Japan's New Prime Minister Kishida"
On October 4, Fumio Kishida was sworn in as Japan's 100th Prime Minister. His administration takes the stage at a pivotal moment for Japan as the nation slowly recovers from the pandemic and begins its post-covid journey. After the unprecedented long terms of former prime minister Abe and Suga's following tumultuous year in office, the world watches closely to see what legacy Kishida's administration will build.
In its December Benkyokai, the SVJP welcomed Jesper Koll, Expert Director for the Monex Group and Japan Catalyst Fund, and Harukata Takenaka, Professor at the National Graduate Institute of Policy Studies. With their guiding expertise, we learned more about what we can expect from the new Japanese government on a social, economic, and political level. The discussion was moderated by Glen S. Fukushima, a Senior Fellow at the Center for American Progress focused on US-East Asia relations.
ABOUT THE SPEAKERS:
Jesper Koll has been researching and investing in Japan since becoming a resident in 1986. Over the past two decades, Jesper has been consistently recognized as one of the top Japan strategists/economists, having worked as Chief Strategist and Head of Research for U.S. investment banks J.P. Morgan and Merrill Lynch. He currently serves as Expert Director for the Monex Group and the Japan Catalyst Fund (Japan's 1st retail investor based corporate engagement/activist fund). His analysis and insights have earned him a position on several Japanese government and corporate advisory committees, including Governor Yuriko Koike's Advisory Board. Jesper serves as Board Director of OIST, the Okinawa Institute for Science and Technology and is a Founder and Board Director of the Asia Society Japan and heads their Policy Committee. He is one of the few non-Japanese members of the Keizai Doyukai, the Japan Association of Corporate Executives; and serves on the board of several Japan-based start-ups. He has written three books in Japanese and, in 2021, created the acclaimed video/pod-cast series "Japan – Capitalism that works".
Jesper is an economist, angel-investor, patron; and yes, a Japan Optimist.
Harukata Takenaka is a Professor at the National Graduate Institute of Policy Studies where he teaches graduate seminars and courses on Contemporary Japanese Politics, Comparative Politics, Democratization, and International Political Economy. He began his career at the Ministry of Finance, International Finance Bureau in 1993 and became the Chief Examiner for the Secretariat for the Headquarters on Reforms and Central Governments, the Japanese Government in 1998 to 1999. Dr. Takenaka has written several publications including Korona kiki no Seiji [Politics of Covid 19 Crisis] (Tokyo: Chuokoron Shinsha, 2020) and Failed Democratization in Prewar Japan: Breakdown of a Hybrid Regime (Stanford: Stanford University Press, 2014). Dr. Takanaka received his Bachelor of Law from the University of Tokyo, and MA and PhD from Stanford University, Department of Political Science.
Glen S. Fukushima is a Senior Fellow at the Center for . American Progress, a public policy think tank headquartered in Washington, D.C., where he focuses on U.S.-East Asia relations. On October 14, President Joe Biden nominated him to serve in the Senate-confirmed position of Vice Chair of the SIPC (Securities Investor Protection Corporation). He divides his time between Washington, D.C., San Francisco, and Tokyo.
From 1990 to 2012, Mr. Fukushima was a senior business executive based in Asia representing several major multinational corporations: Vice President, AT&T Japan; President, Arthur D. Little Japan; President & CEO, Cadence Design Systems Japan; President & CEO, NCR Japan; and President & CEO, Airbus Japan. He was elected to serve for two terms as President of the American Chamber of Commerce in Japan, then the largest American Chamber outside the United States.
Before his business career, he served in Washington, D.C. as Director for Japanese Affairs (1985-1988) and Deputy Assistant United States Trade Representative for Japan and China (1988-1990) at the Office of the United States Trade Representative (USTR), Executive Office of the President. In 1993, he declined an offer to be the Assistant Secretary of Commerce for International Economic Policy at the U.S. Department of Commerce. He began his career as an attorney at the law firm of Paul, Hastings, Janofsky & Walker.
Mr. Fukushima has served on numerous corporate boards of directors, advisory boards, and government advisory councils in the United States, Europe, and Japan. He has served on the board of the Japan Association of Corporate Executives, America-Japan Society, Japan Center for International Exchange, National Association of Japan-America Societies, Japan Society of Boston, Japan Society of Northern California, Japan-America Society of Washington, D.C., International House of Japan, Japanese American National Museum, U.S.-Japan Council, International Student Conferences, and Global Council of the Asia Society.
Mr. Fukushima has been a member of the Council on Foreign Relations since 1993. Until June 2001, he served for eight years in the White House-appointed positions of Vice Chairman of the Japan-United States Friendship Commission and Vice Chairman of the U.S. panel of CULCON (Joint Committee on United States-Japan Cultural and Educational Interchange). He has served as Chairman of the Mori Art Museum Best Friends, member of the Director's Circle of the San Francisco Museum of Modern Art and of the Jade Circle of the Asian Art Museum of San Francisco, and co-founder of the Tokyo Committee of Human Rights Watch. He also serves on the board of the Washington Bach Consort, PostClassical Ensemble, and American Friends of the Bach Collegium Japan. In 2016, he was appointed Commissioner of the Smithsonian Institution's National Portrait Gallery, and in 2018, he was invited to join the board of the Mori Art Museum.
His publications include Nichi-Bei Keizai Masatsu no Seijigaku [The Politics of U.S.-Japan Economic Friction], winner of the 9th Masayoshi Ohira Memorial Prize in 1993. He received the Excellence 2000 Award from the U.S. Pan Asian American Chamber of Commerce in 1999, the Alumni Hall of Fame Award from Stanford University in 2002, and the Person of the Year Award from the National Japanese American Historical Society in 2008. Keio University awarded him the status of Honorary Alumnus in 2012, and LEAP (Leadership Education for Asian Pacifics) conferred on him its Leadership Award in 2014. He is listed in Who's Who in America.
A native of California, Mr. Fukushima was educated at Stanford University, Harvard University Graduate School of Arts and Sciences, Harvard Business School, and Harvard Law School. At Harvard, he was awarded a National Science Foundation Fellowship. He was a Stanford/Keio Exchange Scholar at Keio University and was a Fulbright Fellow and a Japan Foundation Fellow at the Faculty of Law, University of Tokyo.