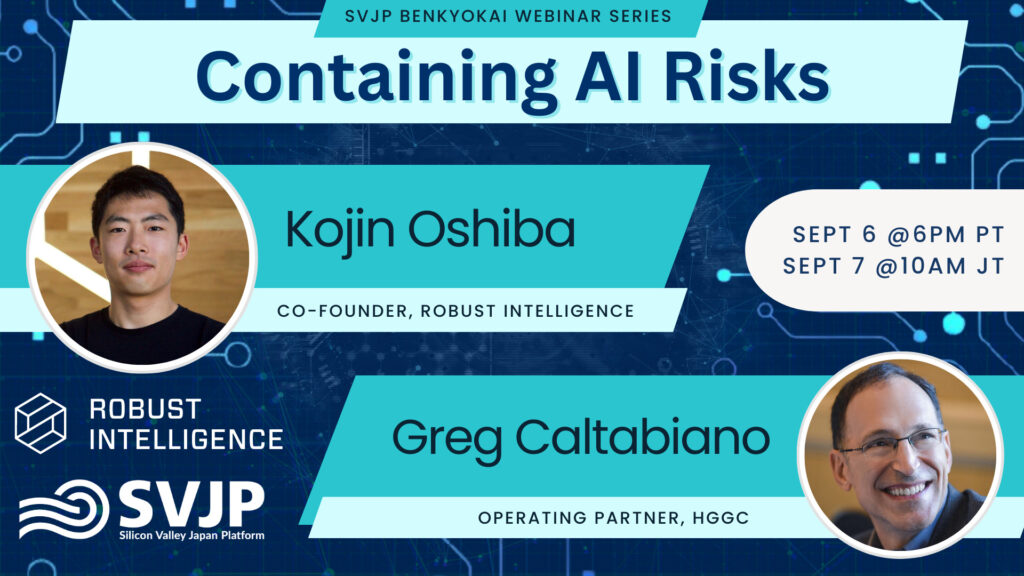 Within the first 5 days of launching, ChatGPT accumulated over 1 million users, only to explode into 100 million users in the first two months. This record-breaking growth showed the public's intense interest in Open AI's multi-functional tool, and it has continued to draw attention as more and more come to rely on the efficiency of generative AI-based services. While AI models are extremely helpful, they are far from flawless.
In the SVJP Benkyokai on September 6, 6pm PT // September 7, 10am JT, we examined two of the main categories of risks associated with AI usage. The first category includes problems with the current AI model, such as hallucinations- confident statements by an AI that are inaccurate despite their training data. The second category refers to the application of AI for harmful purposes, such as the creation of deep fake images. 
To define and explore how to contain these risks, the SVJP had the pleasure of featuring Kojin Oshiba, co-founder of AI model testing platform Robust Intelligence. Kojin illustrated the ways in which Robust tackles AI risks, explaining the steps of detecting anomalies, identifying why it is happening, and most importantly, determining how to implement a solution. Joining the conversation as moderator was Greg Caltabiano, SVJP Executive Committee Member and Operating Partner at HGGC.
Speakers
Kojin Oshiba
Kojin is a co-founder of Robust Intelligence, a San Francisco- based startup developing a product to proactively mitigate AI risk. The company has raised a total of $60M led by Sequoia Capital and Tiger Global, and is trusted by leading organizations including JPMorgan Chase, the U.S. Department of Defense, Deloitte, Tokio Marine, NEC and ZHD.

Kojin received his BA in Computer Science from Harvard. He has also written multiple papers on robust machine learning accepted to top AI conferences. Kojin was named to the Forbes 30 Under 30 in 2023.
Greg Caltabiano
Mr. Caltabiano has deep knowledge of the technology ecosystem and over 30 years of operating experience in the US, China, Japan, Korea, and Europe. He is currently an Operating Partner at HGGC, a private equity company focused on middle market companies, primarily in the technology industry. At HGGC he serves as a board member and advisor to their portfolio companies. He served as President, CEO, COO, and numerous other leadership positions at high-growth companies in the telecommunications, mobile, hardware, and software industries. He also accumulated more than 14 years of work in Japan and Greater China.

Previously, he was President and CEO of Teknovus, which was acquired by Broadcom, President and CEO of ACCO, and President and COO of SOMA Networks. He was also the founding GM of Asia and Division Vice President for Comverse, a US/Israeli company. Mr. Caltabiano holds an MBA from Stanford University where he held a FLAS Fellowship. He also completed post-graduate studies at the Inter-University Center in Tokyo and Executive Education at INSEAD in France. He holds a BS in Electrical Engineering and Computer Science from Princeton University, where he graduated with highest honors and Phi Beta Kappa. He is certified by the NACD & CERT for Cybersecurity Board Oversight.