Grit and Humility: The Story of an Issei Entrepreneur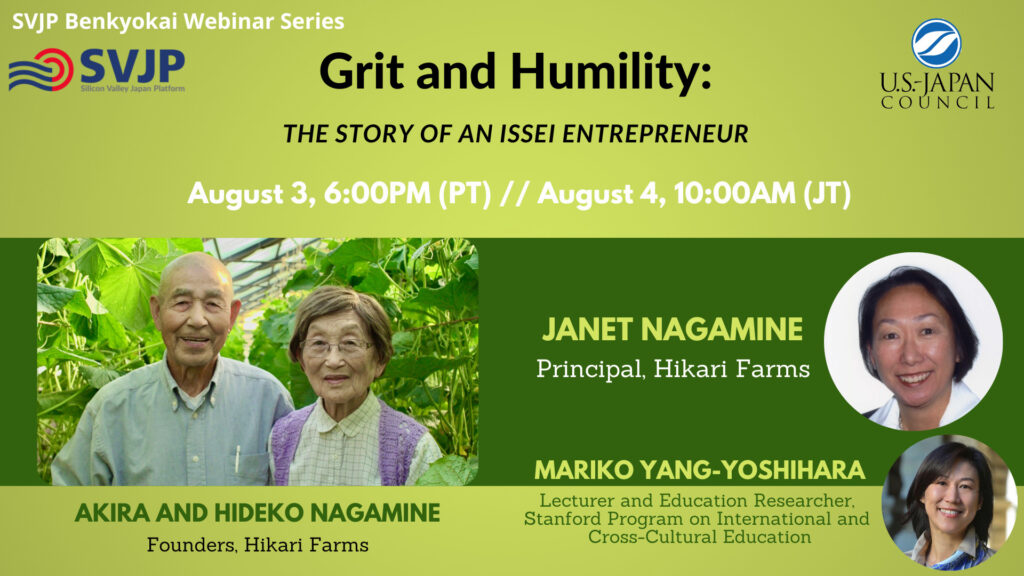 In 1956 with just $24.32 in his pocket, Akira Nagamine ventured to the United States to fulfill a 30-month contract with a strawberry grower in Watsonville, CA, earning 90 cents per hour. After six short years, he was able to purchase five acres of land to start a wholesale floral business with his two brothers. Together they brought generations of farming knowledge from their ancestors in Kagoshima, Japan to their new American home.
When the flower industry moved largely to Central and South America, Akira transitioned to growing high quality vegetables, including their famed Japanese Cucumbers. In 2014, at the age of 88 years old, Akira decided he was not yet ready to retire. The family farm was rebranded and Hikari Farms was born, focusing on specialty organic Japanese vegetables.
On August 3 (PT) / August 4 (JT), the Silicon Valley Japan Platform and US-Japan Council showcased an enduring story of Issei grit, dedication, and familial bonds. Our communities came together to learn about the history of Hikari Farms from Mr. and Mrs. Nagamine's daughter, Dr. Janet Nagamine, who at the peak of her medical career, semi-retired from medicine to manage her family farm as a way to connect to her heritage and honor her parent's legacy. Akira Nagamine, now 97 years old, and his wife, Hideko, 101 years old, joined the Q&A portion of the session. The webinar was moderated by Mariko Yang-Yoshihara.
ABOUT THE SPEAKERS
Dr. Janet Nagamine has been a physician for over 20 years and has led numerous Quality and Patient Safety Initiatives within Kaiser Hospitals and nationally with the Society of Hospital Medicine (SHM). She was the recipient of the 2002 SHM Clinical Excellence Award, and was awarded their highest distinction as Master of Hospital Medicine in 2018.
At the peak of her career in 2014, Dr. Janet Nagamine was called back to the family farm to help her elderly parents wind down and retire but instead, Hikari Farms, a "start up" was born. Her parents, now 101 and 97 years old, still work daily on the farm. She shares the amazing and inspiring story of her Issei parents and the journey which ultimately led to her becoming a farmer and semi-retired physician. Janet is a true agent of change and connector within any community she participates in.
Mariko Yang-Yoshihara is a Lecturer and Education Researcher at Stanford Program on International and Cross-cultural Education (SPICE) and a Visiting Professor at Tohoku University (Department of Technology and Social Systems in the School of Engineering). She holds a Ph.D. in Political Science from Stanford University. In 2016, Mariko co-founded SKY Labo, a Japanese non-profit initiative to empower girls with STEAM (STEM + arts/humanities) education. Its inquiry-based program has obtained official support from the Gender Equality Bureau of Japan's Cabinet Office in 2019.