Crypto- The Promise Versus Current Reality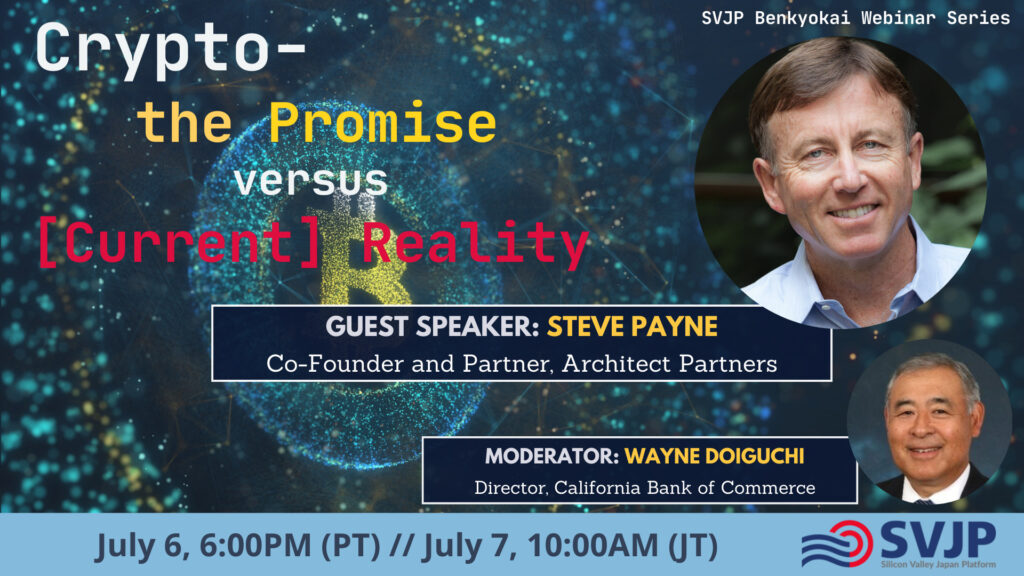 In January 2009 an anonymous developer under the pseudonym Satoshi Nakamoto created Bitcoin- the first ever decentralized cryptocurrency. Over the next decade, Bitcoin's value jumped from fractions of a penny to over 65,000 USD in 2021. Investors flocked to Bitcoin as an alternative to traditional banking following the 2008 financial crash, and the ensuing crypto boom created thousands of other cryptocurrencies, such as Ethereum, looking to join Bitcoin's success.
Despite its sweep into mainstream investing, cryptocurrencies have remained volatile, and today's markets have seen Bitcoin's prices fall over 50% since the start of 2022. The initial enthusiasm which launched Bitcoin's popularity has turned to skepticism and distrust. Are cryptocurrencies on a downward path to obscurity? Or does their potential as a decentralized financial tool still have a mainstage role to play in the global economy?
On July 6, 6pm (PST) // July 7, 10am (JST) the SVJP community explored these and other questions to understand the history and present reality of cryptocurrencies at the July Benkyokai Webinar. Leading the discussion was Steve Payne, Co-Founder and Partner at Architect Partners, a Palo Alto investment bank that specializes in areas such as enterprise software, blockchain, and tech services. The session was moderated by Wayne Doiguchi, Director at California Bank of Commerce and investment expert.
ABOUT THE SPEAKERS
Steve Payne is the Co-Founder and Partner at Architect Partners.
Steve has been a senior operating executive, a venture investor and a dealmaker in Silicon Valley for over two decades. Most recently, Steve was Managing Partner of the Ignite Group, a trans-Pacific venture capital partnership with funds in Silicon Valley and Tokyo. Prior to that, he headed New Products at Sega and was EVP Product Development and Marketing at SegaSoft. Two bubbles ago, Steve left management consulting to head product marketing for a Kleiner Perkins/Sequoia Capital startup. He has been a Director of two dozen private and non-profit boards.
What ties this background together is a strong understanding of technology and a senior, strategic perspective to connecting young, fast growing companies with world-class partners for business development, investment or M&A. Steve holds an engineering degree from Washington University in St. Louis and an MBA from Harvard.
Steve races sailboats on the San Francisco Bay, cycles throughout the Santa Cruz mountains and drives his two kids to water polo, ultimate, basketball and lacrosse practice.
Wayne Doiguchi has over 40 years of experience as an operating executive and investor in the Bay Area banking industry. He is currently a Director with California Bank of Commerce and was a founding Board member of Pan Pacific Bank where he became the Chairman & CEO in 2010. He has a long, sustained track record of creating shareholder value, and under his leadership, Pan Pacific Bank realized several years of consecutive profitable quarters.
Wayne remains actively involved on the board of the Japanese Chamber of Commerce of Northern California and the finance committee board for El Camino Hospital.
Wayne received a Banking degree from the Pacific Coast Banking School at the University of Washington, an M.B.A. from Santa Clara University, and a B.A. from the University of California, Los Angeles (UCLA).
He is a long time resident of the Bay Area.