Scaling Up Climate Change Solutions Under Different Spheres of Influence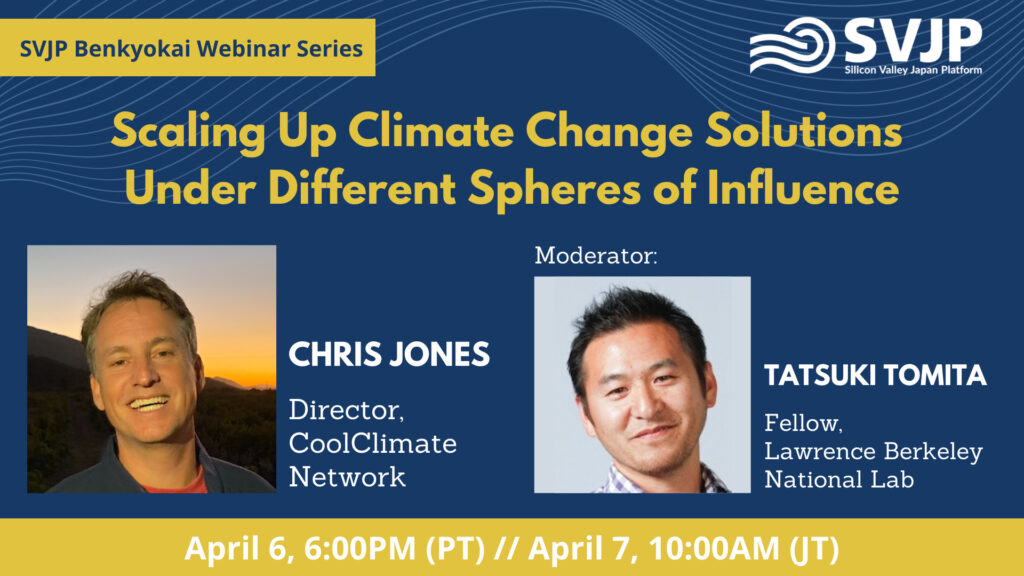 When it comes to climate change, experts have been measuring our carbon emissions for years, and policy-makers have come up with a broad range of regulatory approaches and economic incentives aimed to lower consumption and encourage healthy production habits for companies. But why aren't we seeing significant reductions in our carbon footprint?
On April 6, 6pm PT // April 7, 10am JST, the Silicon Valley Japan Platform hosted its April Benkyokai to discuss the benefits and limitations of current climate change initiatives. From individual carbon footprints to the larger outputs of communities, corporations and governments, attendees discovered how much our behaviors impact the environment around us.
The discussion was led by Chris Jones, Director of the CoolClimate Network at UC Berkeley. Pulling from his knowledge and experience in carbon footprint analysis, Chris broke down how some policies create greater impact than others, and how we can invest in a better future for our planet. The session was moderated by Tatsuki Tomita of the Lawrence Berkeley National Lab.
ABOUT THE SPEAKER
Chris Jones is Director of the CoolClimate Network, a university-government-industry partnership at the University of California, Berkeley. He also serves as faculty lecturer in the Haas School of Business, and Program Chair (12th year) of the Behavior, Energy and Climate Change Conference.
Jones is a leading expert in carbon footprint analysis, the design of behavior-based programs and regional climate policy. In 2005, he published the first comprehensive carbon footprint calculator, which accounts for the greenhouse gas emissions of all transportation, energy, food, goods and services purchased by U.S. households. Versions of CoolClimate software have since been adopted by governments, businesses and non-governmental organizations throughout the United States and internationally. The research underlying these tools helps inform community and state-level climate policy. CoolClimate also develops and evaluates programs to engage, educate, motivate and empower individuals to take climate action. Examples include the Cool Campus Challenge and the CoolCalifornia Challenge. Through research, tools, education, outreach, and networking CoolClimate seeks to help shift talent and resources to the most promising climate solutions.
ABOUT THE MODERATOR
Tatsuki Tomita is a tech entrepreneur. He co-founded several technology companies including Vivaldi Technologies, Orbweb as well as a few non-profits. He is currently a fellow at the US Department of Energy's Lawrence Berkeley National Lab, working on atmospheric carbon removal technologies to reverse climate change. Tatsuki serves as an advisor and a board member of several organizations.
He received his MBA from University of California, Berkeley Haas School of Business, a degree in Mechanical Engineering from Kagoshima National College of Technology, and Economics from Hokkaido University.