The Decentralized Web, The Metaverse, and the "Next Big Thing"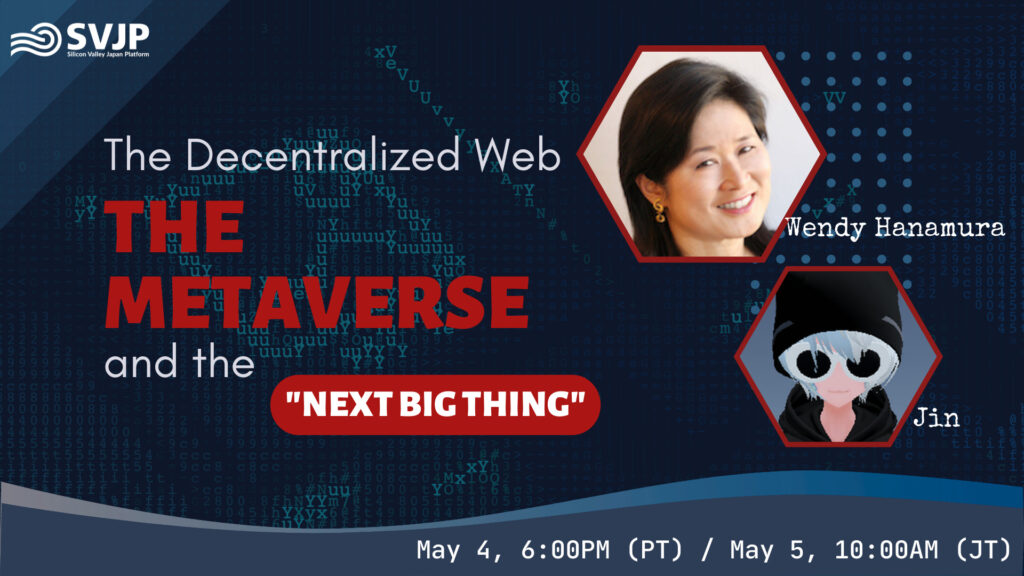 Why did Facebook rename itself for the Metaverse? What is the metaverse & how are people experiencing it? Why are artists, nonprofits, even the NBA racking up seven-figure payouts for otherwise mundane pieces of media called NFTs (non-fungible tokens)?
Underlying this boom is a growing movement building the Decentralized Web, a web that is more private, secure and open, built upon P-2-P (peer-to-peer) technologies. Since 2016, our speaker, Wendy Hanamura, has been convening the major builders of these technologies for the Internet Archive, at the Decentralized Web Summit and DWeb Camp.
On May 4, 6pm PT // May 5, 10am JST, the Silicon Valley Japan Platform held a Benkyokai Webinar to explore this "next big thing". Wendy Hanamura led a thought-provoking introduction to the Decentralized Web, explaining how it differs from "Web 3" and why it is important. The discussion was brought to life through a demo by artist Jin, who is working, trading & creating NFTs in the metaverse.
ABOUT THE SPEAKERS
Wendy Hanamura is the Director of Partnerships at the Internet Archive, one of the world's largest digital libraries. For 25 years, the Internet Archive has provided learners everywhere with free access to billions of Web pages, texts, films and videos, audio and software—a vast collection of our cultural heritage.
Building on a career in non-profit media, Hanamura uses her communication skills to share the remarkable stories locked in the Internet Archive's 90 petabytes of digital information. She helps to steward the global movement to create a Decentralized Web, including producing the Decentralized Web Summits 2018 & 2016, DWeb Camp 2019. At the nonprofit Internet Archive, Hanamura's areas of responsibility have included communication and content strategy, strategic planning, fundraising, and partnership building, all in service of the Internet Archive's mission: universal access to knowledge.
Previously, as Chief Digital Officer of KCETLink and Vice President and General Manger of Link TV, Hanamura led diverse content teams creating media for social change. Hanamura began her career in journalism as a photo editor for Time magazine. She's reported and produced television content around the world for CBS, World Monitor Television, NHK (Japanese Broadcasting Corporation), and PBS. Her favorite project remains Honor Bound: A Personal Journey, the documentary she produced about her father and his storied WWII unit, the Japanese American 442nd Regimental Combat Team.
Hanamura graduated summa cum laude and Phi Beta Kappa from Harvard University and she was a Rotary International Fellow at the University of Tokyo, studying architecture with Fumihiko Maki.
Jin is a hacker artist and VR developer exploring the convergence of web, gaming, social networks, and decentralization. After having read Snow Crash, he's been obsessed with Metaverse engineering. He is currently building the Webaverse.