The 2024 Presidential Election: Uncertainties & Impacts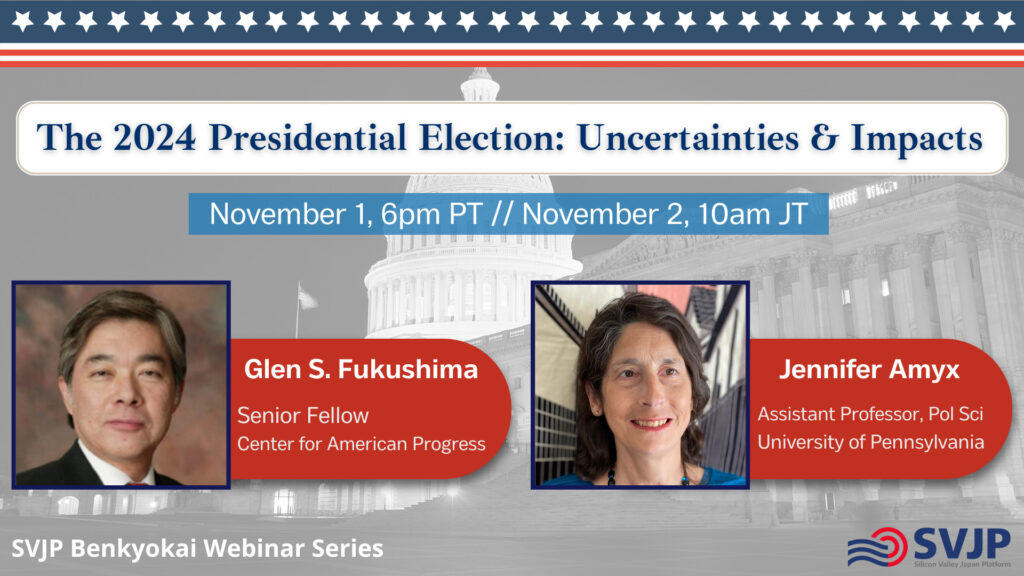 On November 5, 2024, America will hold its 60th presidential election. President Joe Biden and Former President Donald Trump are poised to commence a rematch, provided they obtain their party's nominations. It is a race which fills many in the U.S. and abroad with a growing sense of unease, particularly surrounding the continued strength of former President Donald Trump in polls.
On November 1, 6pm PT // November 2, 10am JT the SVJP community gathered to identify the key factors that could still alter the political dynamics of the 2024 presidential race. The SVJP was thrilled to be joined by Glen S. Fukushima, Senior Fellow at the Center for American Progress, and Jennifer Amyx, Assistant Professor of Political Science at the University of Pennsylvania. Together they provided an overview of potential election outcomes and the pivotal influences to watch for as the next year unfolds.
SPEAKERS
Glen S. Fukushima:
Glen S. Fukushima is a Senior Fellow at the Center for American Progress, a public policy think tank in Washington, D.C. President Joseph R. Biden nominated him to be Vice Chair of the Securities Investor Protection Corporation in October 2021, and the Senate confirmed him in April 2022. From 1990 to 2012, he worked in Asia as a senior business executive for one European and four American corporations and was elected to two terms as President of the American Chamber of Commerce in Japan.
Previously, he served as Director for Japanese Affairs (1985-88) and Deputy Assistant U.S. Trade Representative for Japan and China (1988-90) at the Office of the U.S. Trade Representative (USTR). He was educated at Deep Springs College, Stanford University, and Harvard University (Graduate School of Arts and Sciences, Business School, and Law School). He has been a visiting professor at Sophia University, Kyoto University, and Waseda University.
Jennifer Amyx:
Jennifer is a political economist specializing in the politics of finance and US-Japan relations. She holds a BA in Foreign Affairs and Asian Studies from the University of Virginia and an MA and PhD in Political Science from Stanford University. Jennifer also studied at International Christian University and Kyushu National University as a Rotary Japan Scholar. Following a Post-Doctoral Fellowship at Australian National University, Jennifer joined the University of Pennsylvania Department of Political Science Faculty in 2002.
Her first book, Japan's Financial Crisis: Institutional Rigidity and Reluctant Change, was awarded the 2004 Masayoshi Ohira Memorial Prize. In 2006, she worked on regional financial policy issues for Japan's Ministry of Finance and then at the U.S. Treasury as a Council on Foreign Relations International Affairs Fellow. In 2010, Jennifer took leave from Penn to battle a series of major health challenges. She is excited to now be researching and writing on Japan again, while working on a memoir.