AI Solutions: The Transformative Approach to Senior Care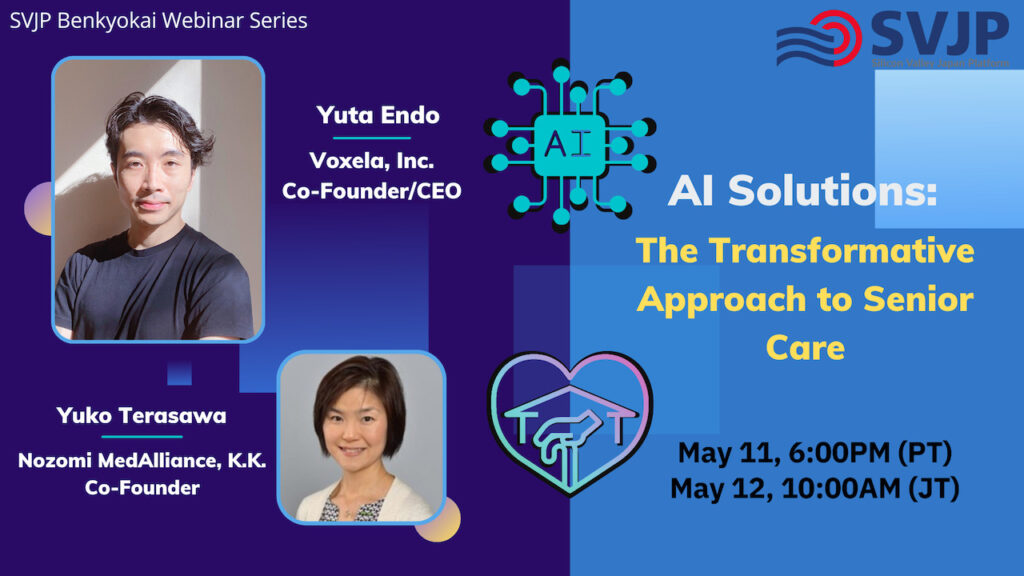 With every era of innovation comes the question, "How can we best implement this technology to better society and accelerate business?" As we see tremendous advances in AI emerge, each industry rushes to find the optimal ways to utilize these cutting-edge technologies.
One such area seeking potential opportunities for AI application is senior care. With a 65 and over population estimated to climb to 80.8 million in 2040, 22% of the total population, the US must prepare to cover an ever growing demand in senior care services (2021 Administration on Aging Report). In Japan, the situation is much more critical, with those over 65 projected to account for 35.3% of the total population by 2040 (The Japan Times).
On Thursday, May 11, 6pm PT // Friday, May 12, 10am JT, the SVJP May Benkyokai took an in-depth look at how Yuta Endo, Co-Founder of Voxela, Inc, is navigating the US and Japanese startup landscapes and leveraging AI to bring elevated care to seniors. Together we discussed how AI can be implemented to assist in elderly services, examine the potential growth for medtech in Japan and the US, and consider where global healthcare may take us next. The discussion was moderated by Yuko Terasawa, Co-Founder of Nozomi MedAlliance, K.K. and Principal Consultant at BiomedwoRx Life Science Consulting.