Japanese American Eats: A Celebration of Roots and Innovation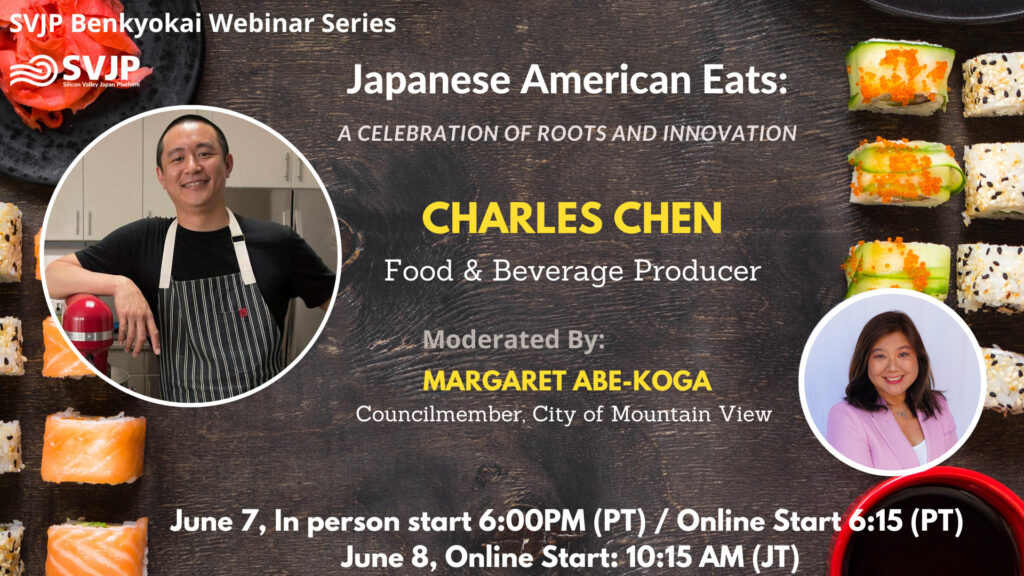 As Japanese issei immigrated to the United States, they brought with them their cultural roots and heritage in the forms of arts, language, and foods. Early immigrants and their nissei children learned to adapt to the United States's culinary styles, improvising with local ingredients to prepare their home food in a new land. To their American neighbors and classmates, the smell of miso or concept of raw fish was often marked as an oddity, or even offense.
Overtime, the world of Japanese cuisine in the United States has transformed into its own rich landscape of innovative Japanese American recipes. Demand for Japanese food has skyrocketed, with many reaching not only for fusion dishes such as the "California Roll," but also for increasingly more "authentic" Japanese cuisine like an omakase.
On June 7, 6pm PT // June 8, 10am JT, the SVJP community gathered together at a hybrid benkyokai to celebrate and analyze the development of Japanese cuisine in the United States. We were joined by guest speaker Charles Chen, a food and beverage producer with experience managing and consulting several Michelin starred restaurants, and creator of the viral Japanese Basuku cheesecake. The session was moderated by Mountain View City Council Member Margaret Abe-Koga.
SPEAKERS
Charles Chen
Born and raised in California, Charles Chen has spent half of his life in Southern California and the other half in Northern California. Having grown up in a restaurant family to a Japanese father and Taiwanese mother, Charles gravitated towards food and beverage after completing his Bachelor of Arts in Criminology from UC Irvine. Right after college, Charles would start a wholesale wagyu distribution company in the LA/Orange County area supplying high-end restaurants and chefs like Dominique Crenn.
After realizing the challenges of being the little guy in a corporate market, Charles would move to the Bay area and return to restaurants. Working his way up at some of San Francisco's top restaurants, Charles quickly became one of the city's most experienced operators. After years of managing and opening restaurants like Michelin-starred Spruce, Hakkasan and Tartine Manufactory, he shifted his career towards consulting and producing concepts.
His first consulting project was opening the revered Tartine Bakery in Seoul and continued his international experience by consulting with Japanese companies like Suntory and ANA Airlines. He would then return his focus back to the Bay Area where he produced Michelin-starred, Maum, in the heart of Silicon Valley. Covid-19 did not stop his momentum, as during the pandemic he created the viral sensation, Basuku Cheesecakes, which has garnered national media attention and a cult following.
Most recently, he has returned to Asia to produce Kaji, a live-fire cooking concept in Kyoto, Japan and will continue to work on projects bringing concepts to and from Asia and the US.
Margaret Abe-Koga
Margaret is in her fourth term on the Mountain View City Council. Elected in 2006, she became the first Asian American female to serve on the Mountain View City Council. She served as Mayor in 2009 during the Great Recession and again as Mayor in 2020, where she led the City through the COVID-19 pandemic.
Margaret has been a champion for sustainability, transportation, affordable housing, public safety, diversity, equity and inclusion. She serves on regional bodies including the Metropolitan Transportation Commission, the Valley Transportation Authority Board of Directors as an ex-officio member, the Bay Area Air Quality Management District, the Silicon Valley Clean Energy Board and as the Santa Clara County Cities Association Board President. Prior to her service on the City Council, Margaret served as Trustee for Area 1 on the Santa Clara County Board of Education and was active with several community and non-profit organizations including the Japanese American Citizens League (JACL), San Jose Taiko, and the Japanese American Chamber of Commerce.
A daughter of Japanese immigrants, Margaret holds an AB in American Government from Harvard University. She and her husband Yotto Koga, have two college-age daughters, Aili and Aina.