Cybersecurity and Risk Management, Keeping Up with the Evolving Landscape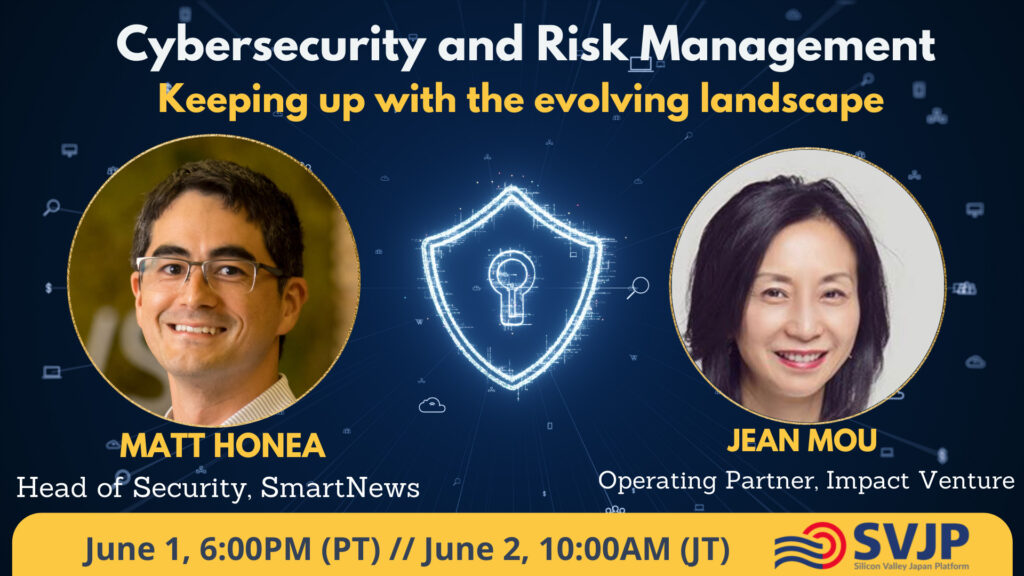 What does it take to deliver quality news to readers around the world? On June 1, 6pm PT// June 2, 10am JT, the SVJP benkyokai community explored the answers to this important question. We were joined by guest speaker Matt Honea, Head of Security from SmartNews, and moderator Jean Mou, Operating Partner at Impact Venture.
Matt identified the current environments related to cloud systems, the threats organizations face from malicious actors, and the geopolitical cyber threats faced by Japan and other countries around the world. The discussion also covered Cyber mitigation strategies and how rising protective measures, such as cyber insurance, are changing the way we think about risk.
ABOUT THE SPEAKERS
Matt Honea is the Head of Security at SmartNews, Inc, headquartered in Shibuya City, Japan with offices around the globe. He was formerly the Senior Director of Cybersecurity at Guidewire Software in San Mateo, CA. Matt has worked extensively in the areas of threat intelligence, network defense, system forensics and discovery, enterprise security auditing, malware analysis and physical security. Matt is an industry speaker, author in the area of cybersecurity and cyber risk, as well as a Silicon Valley Business Journal 40 under 40 honoree.
Jean Mou is an operating partner at Impact Venture in Menlo Park, CA. She is an investor and business advisor working closely with seed-stage companies in the software and consumer sectors. From 1989 to 2002, Jean has held various positions at NetApp, Goldman Sachs & Co., and GE Healthcare. Jean received her Bachelor of Science degree in Electrical Engineering from the University of Arizona and MBA from the University of Chicago. She is currently a member of the Advisory Board at the Stanford Institute for Economic Policy Research (SIEPR).