Korea's Imprint on Global Entertainment and the Role of Technology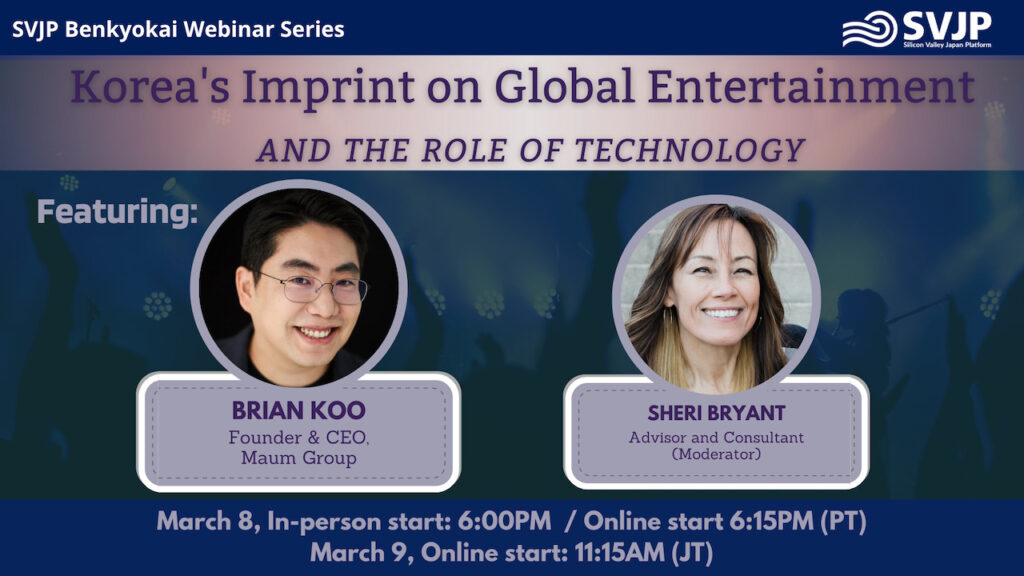 Over the last two decades, the Korean entertainment industry has rocketed to an unprecedented level of global acclaim. K-pop groups like BTS have found tremendous popularity worldwide, even claiming the record for the most viewed music video in 24 hours with a whopping 108 million views on their 2021 single Butter. In film, Korean director Bong Joon-Ho's Parasite broke the "one inch barrier of subtitles" to become the first ever non-English speaking film to win Best Picture at the Oscars.
These industry breaking moments have redefined our understanding of global entertainment. As Korean dramas, films, and music become household names, the question remains: how has Korea produced and maintained this cultural wave?
On March 8, 6pm PT // March 9, 11am JT, the SVJP held its first hybrid benkyokai while learning how Korean entertainment groups are leveraging innovative technologies to rise to new heights. Our guest speaker Brian Koo, founder and CEO of Maum Group, highlighted the technological development of Korea's media prowess and delved into what these trends reveal about modern media consumption overall. A following discussion was moderated by Sheri Bryant, Independent Advisor and Consultant and entertainment expert.